Professional Car Service in Gippsland at McKay Automotive & Sale Brake Specialists
With over 25 years of motor mechanic experience, McKay Automotive & Sale Brake Specialists is regarded as one of the best independent car service centres in Gippsland. Located in Sale, McKay Automotive is a popular choice of auto shop for people from all over Gippsland. With early start and late finish times, we cater for a wide range of clientele who wish to drop off cars before work and pick them up in the evening after their day is done.
Our friendly, fully qualified staff all have mechanical experience reaching into the decades and are literate, articulate individuals. They will engage with you regarding all your requirements and we ensure that the person you discuss your car with is directly involved in your car service.
So if it's a reliable Gippsland car mechanic you're after, we can help with car repair, car service or roadworthy certificates, and are happy to give fixed service quotes and repair estimates.
We are based in Sale, but also offer reliable car service and repairs for all residents of the surrounding Gippsland area.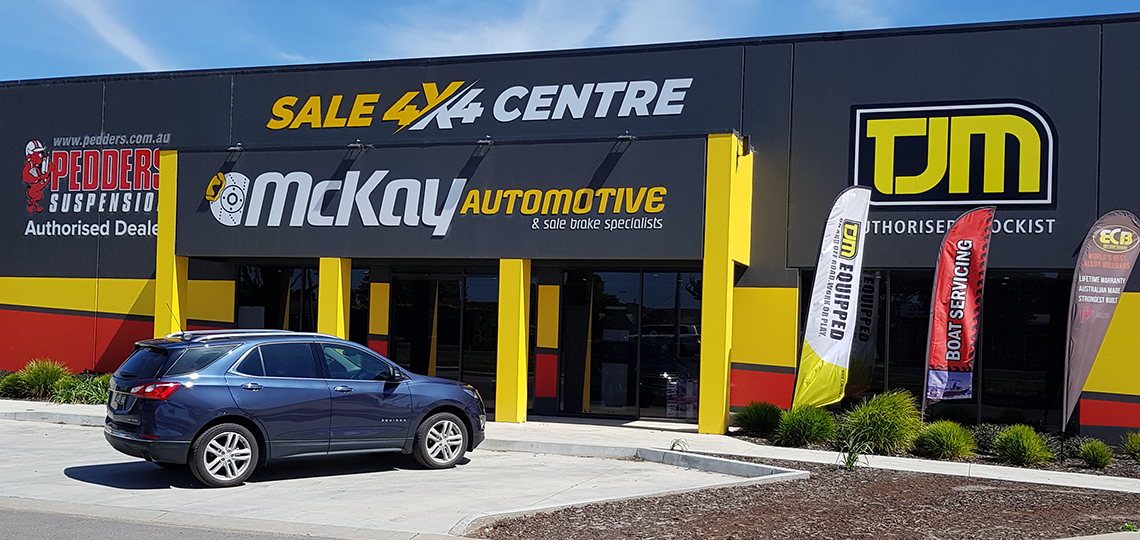 Your local Authorised Dealer for Quality TJM & Pedders Products
McKay Automotive services range from routine car service and maintenance to more in-depth repairs on all makes and models.
Our Services include:
Fixed quotes for minor and major services
Log book service
Oil specific minor and major services
Full computer scanning diagnostics
Trouble code analysis
Roadworthy Certificates on vehicles up to 4.5 tonne and motorcycles
Brakes service and manufacturing
Clutch replacement
Timing belts & chains
Steering and suspension diagnostics and rebuilds
Wheel alignments
4WD accessories
When you're paying good money for car service or repairs, you need to have a thorough understanding of the nature of the problem, the scope of the repairs or maintenance, and why certain tasks need to be performed.
McKay Automotive staff are all capable of providing you with explanations about any repairs required on your car. Where possible, your old parts are used to help explain the repair process after the job is complete.
To book in your vehicle please call us on 03 5143 0555
McKay Automotive offers Roadworthy Certificate (RWC) after carefully inspecting your vehicle. We are licensed and fully reliable roadworthy certificate provider. Contact us today to ensure that your vehicle is safe for roads!
To make a booking for your vehicle, call us on 03 5143 0555
Monday                  8:00 AM – 5:30 PM Tuesday                 8:00 AM – 5:30 PM Wednesday            8:00 AM – 5:30 PM Thursday                8:00 AM – 5:30 PM Friday                     8:00 AM – 5:30 PM Saturday                 9:00 AM – 12:00 PM Sunday                   Closed